Through Her Eyes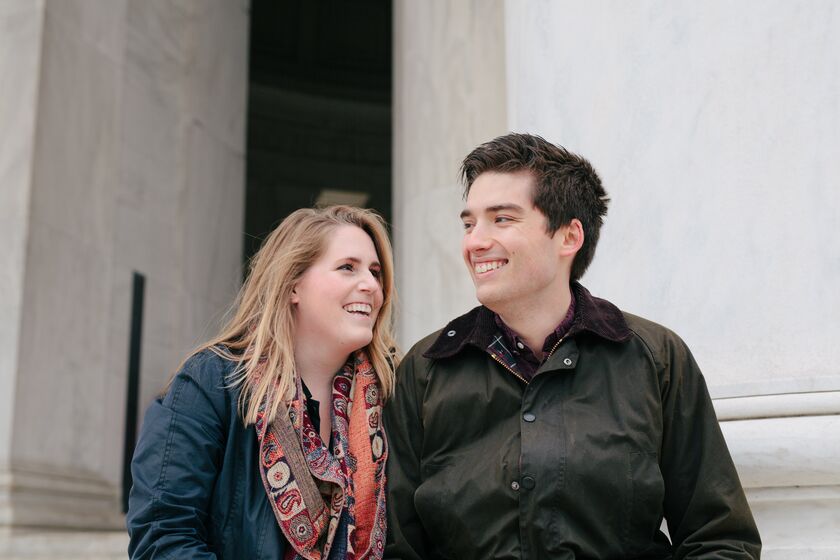 During January of my senior year of college, I travelled to San Diego, California from Harrisonburg, Virginia, for a Marriott sponsored leadership conference for 80 of their management training program applicants. On the final day of the 3 day conference, we were encouraged to sit next to someone we had not yet met. I took a seat at an empty table, waiting for everyone to find a seat, and the first person to join me was a tall, gangly guy from Michigan. I remember tripping over my words when trying to talk to him, because I couldn't get over how cute he was. We made as much small talk as my brain would allow, and eventually, we were told to go back to our groups and we said goodbye.
That night after the conference had concluded, I had planned to go to bed early, because I had a 6:00 AM flight back to Virginia. I had made plans with my roommate, Molly, whom I had become friends with during our 3 days, to stay in, get a movie and order cookies from room service. Last minute, I decided that I should go into the city with my other group members, because I had never been to California before and wanted to explore. I apologized profusely to Molly and felt like a terrible roomie, but that night I saw the gangly guy from Michigan again.
My group decided to go to a bar not far from the hotel. I had been talking to a group member named Nick, who went to Michigan State when Patrick walked up. I quietly start fan girling, and we end up talking for hours while slowly, unintentionally our 3 person conversation became a 2 person conversation between Patrick and me. Around midnight, I decided I should go back to the hotel to pack, so Patrick and I took an Uber back to the hotel with a few other group members. While in the lobby, I mention to him that I should probably stay up since it was already so late, and I am a heavy sleeper. I needed to wake up ay 4:00 AM for the shuttle to the airport and did not want to oversleep. Turns out, he had the same shuttle time. We end up staying up and talking around a fire outside for 4 hours. Around 4:15 AM, we realize we were about to miss our shuttle, and ran back inside to pack. We meet at the shuttle and once at the airport, he hugged me goodbye, and I say, "Let me know if you're ever in Virginia".
Through His Eyes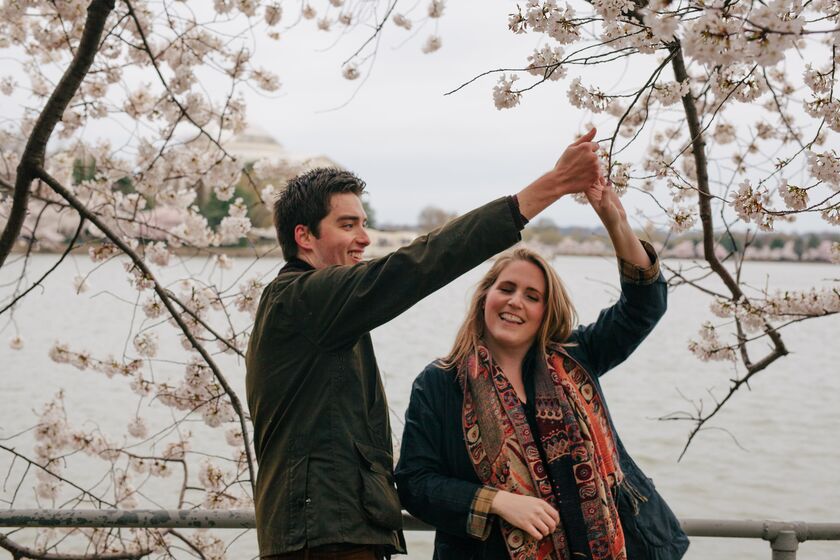 Kristen and I met at a work-related event out in San Diego, California. During this event, we were encouraged to sit by someone we hadn't sat by before. I remember when I first spoke to Kristen that there was a real connection there but told myself it's a work event and what would be the odds I'd ever talk to this person ever again?
Beyond that first time we met, we didn't really talk again until the final night after our work event had concluded. Neither her nor I was planning on going out that night with our new work friends. We each had very early morning flights at the same time going to different places and (we found out retrospectively) we just said to ourselves when would we be able to explore San Diego again? Once we had gone out for the night with our group, the first bar we went to I had sung an exceptional few Karaoke tunes (the audience obviously was floored) and we decided as a group to move onto the next bar.
I remember Kristen was standing at the bar rail of the second bar talking with a mutual friend. Something told me that I should go talk to her even though there really wasn't a space due to the size of the crowd, and I would be a third wheel if I did. I'm glad I third wheeled (very hard may I add) because he soon stepped away and I swooped in on the previous spot that he held before. We continued to talk (rather yell since it was so crowded and busy) all the way until the bar closed.
After the bar closed, we grabbed an Uber along with two other work associates. My lanky self-got the front seat while Kristen was in the back seat with two other co-workers. They soon started to make out as if the Titanic was a few minutes away from being fully sunk. So, we started a conversation with our Uber driver to break the high level of being awkward. Nothing too special about this conversation other than the usual conversation we all have with Uber drivers. "How's your night going to night" and "How long have you been doing this?"…etc. The driver willfully replied until we asked "So what else do you do other than Uber?". There was a moment where it was completely silent and he replied with "So what brings you to San Diego?". I think my very first text message to Kristen I ever sent was "Was it just me or is that the shadiest reply you've ever heard?"
Once we finally had gotten back to the hotel, we were still looking to talk and hangout with each other. The hotel had a fire place that we sat by and lost all track of time. We talked for so long in fact that we almost didn't notice we had talked the entire night away. When we looked at our watches, the shuttle to take us to the airport would be arriving in less than 10 minutes!
We luckily each made the shuttle to the airport and promised to keep in touch. Just before I left Kristen hugged me and said "if you're ever out in my area look me up sometime". We went our separate ways and started to text each other back and forth. I had gotten breakfast at Good Burger and had fallen asleep in the chair at my plane's gate at LAX while talking to her. The only time I really awoke was when my phone vibrated and I instantly woke up to see what she had to say. Soon after this, I boarded my plane and was headed toward my layover in Minneapolis.
Before landing I was genuinely curious if she had texted me or not. Wondering if it'd be too much if she didn't or am I reading too much into this? When I landed I think I had somewhere between 5-8 text messages awaiting me. So, we started to text one another and found that the length of messages was long enough that we switched over to Facebook Messenger (for those who don't know, the limit on the number of characters in a Facebook Messenger text is much longer than normal texting). Facebook Messaging Kristen took somewhere to write (no exaggeration here) 30-45 minutes because we had so many questions and responses each other had asking.
That was the start to how we met and I wouldn't have changed it any other way